Market Square At Legacy Park
1102 S. Market Street Mechanicsburg, PA 17055

Market Square at Legacy Park is the newest live/work/play development in the thriving West Shore market. Outstanding retail opportunities are available and supported by a planned 650+ unit residential community. 
| | |
| --- | --- |
| Sale Price: | Subject To Offer |
| Lease Rate: | $23.00 SF/yr (NNN) |
| Building Size: | 47,535 SF |
| Available SF: | 1,520 - 16,000 SF |
| Lot Size: | 4.87 Acres |
| Price / SF: | - |
| Zoning: | TND |
Market Square at Legacy Park is the newest live/work/play development in the thriving West Shore market. The project consists of 47,535 square feet of retail space, the most currently available in rapidly expanding Mechanicsburg, with great visibility from Market Street, a major thoroughfare with traffic counts of +/- 13,000 VPD. These outstanding retail opportunities are supported by a planned 650+ unit residential community, already under construction behind the center. The center will be the home of Wolf Brewery, an award-winning local microbrewer opening their first retail brewery/eatery location. The project is in close proximity to notable retailers including Sheetz, Giant Foods, Starbucks, Cracker Barrel, Wendy's, Arby's, Subway, Dollar Tree, and Rite Aid.
Legacy Park is ideally located in the center of Mechanicsburg, a retail market that has seen tremendous retail growth over the last 10 years with the addition of the Silver Spring Square shopping center, anchored by Wegman's, Target, and Best Buy. In addition to market-exceeding retail growth, Mechanicsburg's residential and warehouse/distribution inventory are among the fastest-growing in the midstate as well.
Legacy Park's outstanding strategic location attracts more than 420,000 people with household incomes of more than $80,000 per year within a 20-minute drive time. The immediate area has seen an increase of more than 20% in new residential construction, with more than 20,000 new homes built in the last ten years. Within a 10-mile radius of the project, there are more than 289,000 people in more than 121,000 households, with a labor force of almost 250,000 and an average household income of more than $81,000.
| | |
| --- | --- |
| Development Area | 185 Acres |
| Gross Leasable Area | 47,535 SF +/- |
| Frontages | S Market St (RT 114) |
| Traffic Counts | 13,000 VPD on 114 |
| Permitted Uses | Mechanicsburg Borough Traditional Neighborhood Development (TND) zoning; allows banking, daycare, fitness, restaurants, retail, day spas, personal services, office. Grocery allowed conditionally. |
| | |
| --- | --- |
| Retail Pad Sites | Up to 16,400 SF available |
| Retail / Restaurant Space | 47,535 SF GLA |
| Office Space | None but pads can be built as office per zoning. |
| | |
| --- | --- |
| Residential Opportunities | 650+ total units |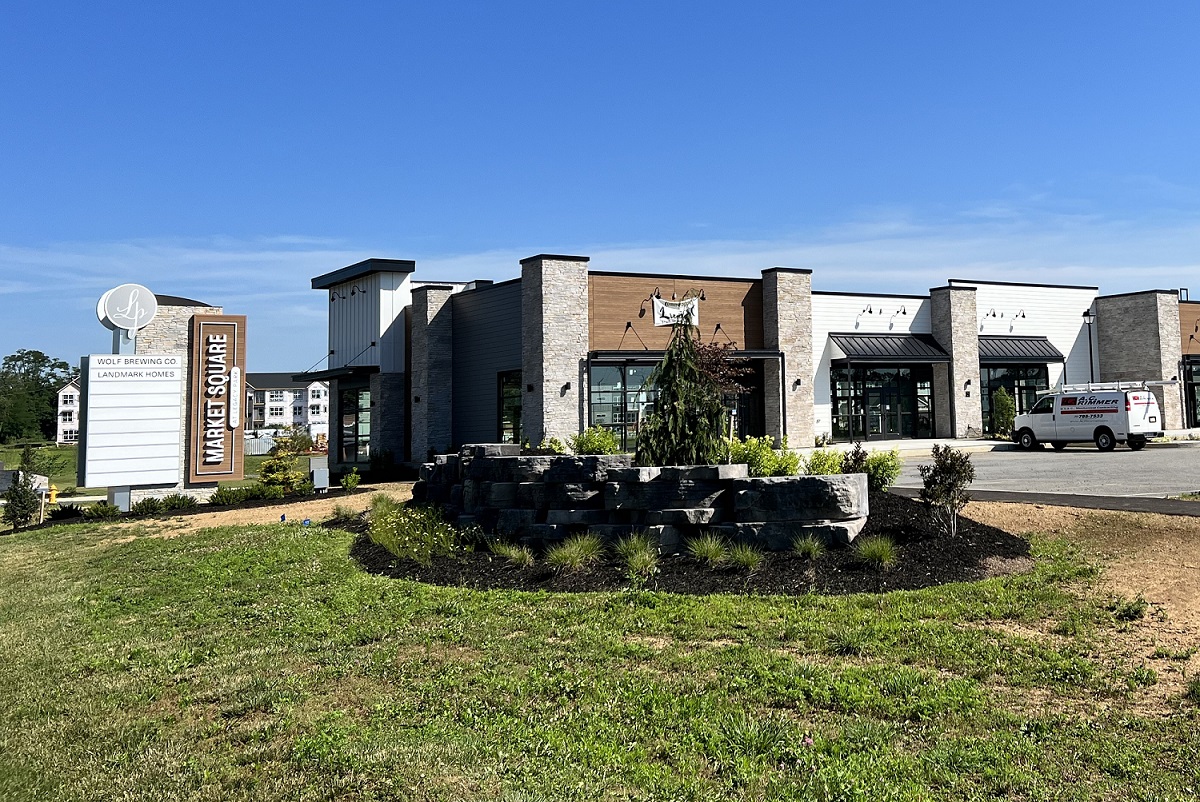 | | | | |
| --- | --- | --- | --- |
| Total Population | 6,863 | 40,041 | 86,214 |
| Average age | 43.7 | 42.3 | 41.7 |
| Average age (Male) | 42.9 | 40.3 | 39.6 |
| Average age (Female) | 44.9 | 44.6 | 43.6 |
| | | | |
| --- | --- | --- | --- |
| Total households | 3,038 | 18,020 | 35,927 |
| # of persons per HH | 2.3 | 2.2 | 2.4 |
| Average HH income | $70,212 | $69,671 | $79,941 |
| Average house value | $295,110 | $226,965 | $217,354 |
* Demographic data derived from 2010 US Census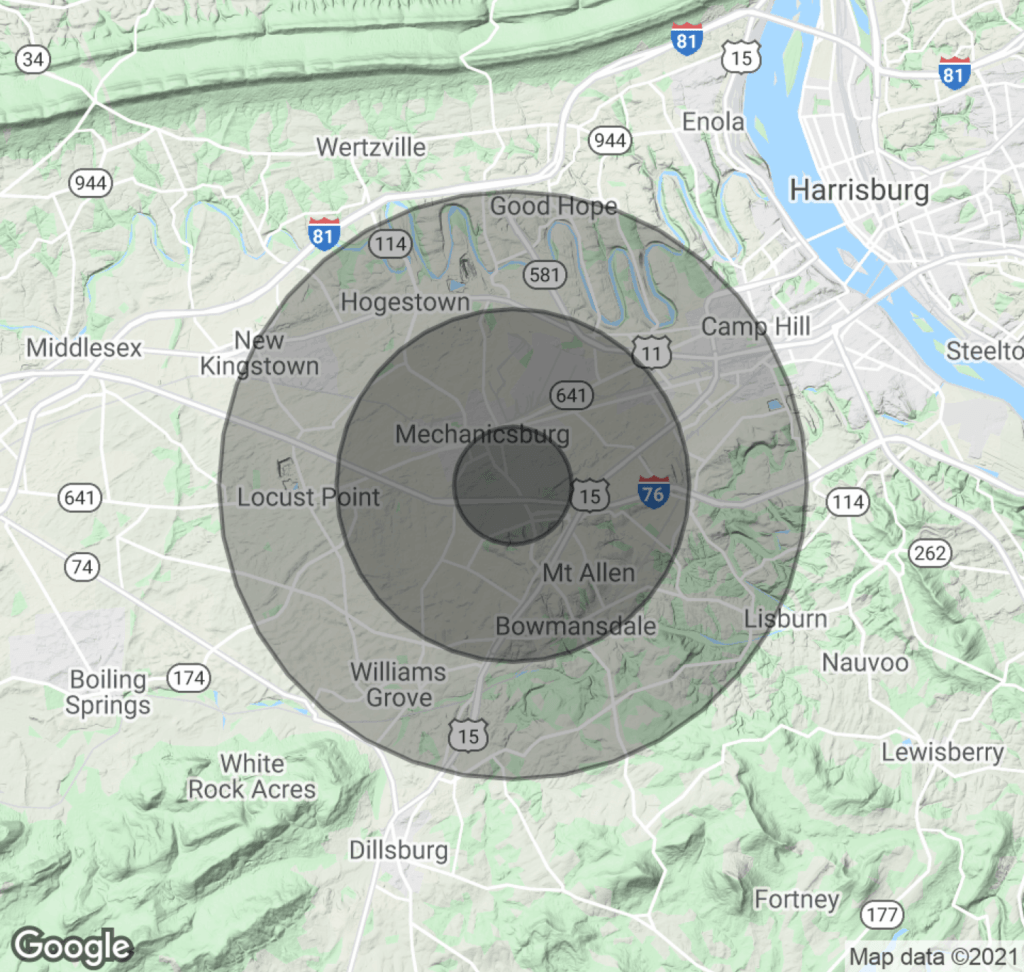 All materials and information received or derived from Landmark Commercial its directors, officers, agents, advisors, affiliates and/or any third party sources are provided without representation or warranty as to completeness, veracity, or accuracy, condition of the property, compliance or lack of compliance with applicable governmental requirements, develop ability or suitability, financial performance of the property, projected financial performance of the property for any party's intended use or any and all other matters.
Neither Landmark Commercial its directors, officers, agents, advisors, or affiliates makes any representation or warranty, express or implied, as to accuracy or completeness of the any materials or information provided, derived, or received. materials and information from any source, whether written or verbal, that may be furnished for review are not a substitute for a party's active conduct of its own due diligence to determine these and other matters of significance to such party. Landmark Commercial will not investigate or verify any such matters or conduct due diligence for a party unless otherwise agreed in writing.
EACH PARTY SHALL CONDUCT ITS OWN INDEPENDENT INVESTIGATION AND DUE DILIGENCE.
Any party contemplating or under contract or in escrow for a transaction is urged to verify all information and to conduct their own inspections and investigations including through appropriate third party independent professionals selected by such party. All financial data should be verified by the partt including by obtaining and reading applicable documents and reports and consulting appropriate independent professionals. Landmark Commercial makes no warranties and/or representations regarding the veracity, completeness, or relevance of any financial data or assumptions. Landmark Commercial does not serve as a financial advisor to any party regarding any proposed transaction. All data and assumptions regarding financial performance, including that used for financial modeling purposes, may differ from actual data or performance. Any estimates of market rents and/or projected rents that may be provided to a party do not necessarily mean that rents can be established at ot increased to that level. Parties must have evaluate any applicable contractual and governmental limitations as well as market conditions, vacancy factors and other issues in order to determine rents from or for the property.
Legal questions should be discussed by the party with an attorney. Tax questions should be discussed by the party with a certified public accountant of tax attorney. Title questions should be discussed by the party with a title officer or attorney. Questions regarding the condition of the property and whether the property complies with applicable governmental requirements should be discussed by the party with appropriate engineers, architects, contractors, other consultants and governmental agencies. All properties and services are marketed by Landmark Commercial in compliance with all applicable fair housing and equal opportunity laws.