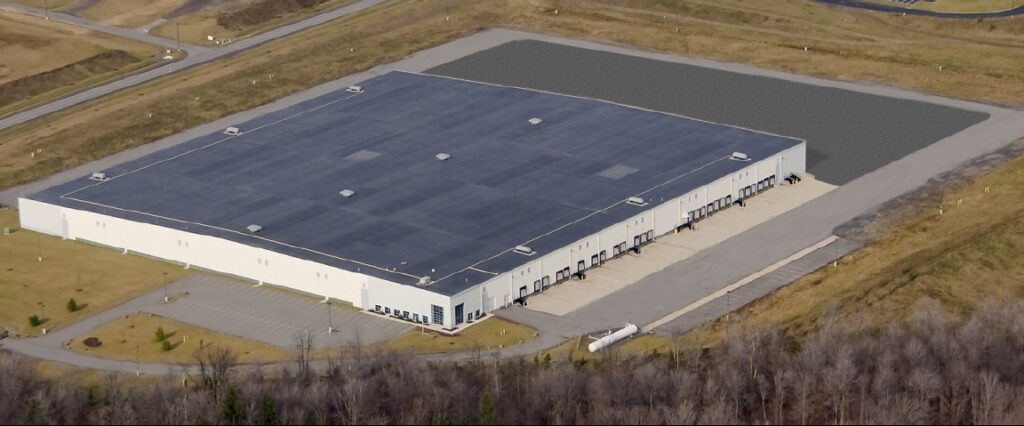 Camp Hill, PA (May 12, 2021) – Broadrange Logistics LLC recently purchased a 390,000 SF Class A distribution facility situated on 60 acres located within Covington Industrial Park at 100 First Ave, Gouldsboro, PA in Covington Township, Lackawanna County, from EQT Exeter Property Group Inc. of Philadelphia.
The institutional-grade facility is equipped with modern design elements including abundant loading, trailer parking and clear height and is fully approved for an expansion of up to 550,000 SF.  It will serve as the Northeast logistics facility for Broadrange Logistics LLC and their existing client network.
The property has excellent access to the Philadelphia & NYC metro markets, nationally recognized I-81/78, I-476 & I-95 transportation corridors and Northern NJ/NY deep water port facilities with corporate neighbors including Amazon.com, Sears Logistics, FedEx, Johnson & Johnson and NFI.
Jason Grace, CCIM, SIO/CEO & Managing Principal at Landmark Commercial Realty / TCN negotiated the transaction between the parties in cooperation with J.R. Wright, Jr., Principal of Strategic Real Estate Partners, LLC based in Atlanta, GA.
About Landmark Commercial Realty
Landmark Commercial Realty, established in 1988, is a full-service commercial/industrial brokerage firm headquartered in Harrisburg, Pennsylvania, focusing on the South Central Pennsylvania region. Serving more than 200 markets globally, Landmark is a member of TCN Worldwide with more than 1500 brokers and salespeople.