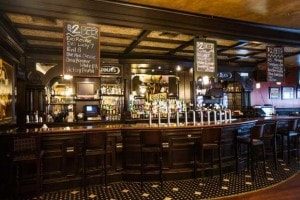 By early summer, Ceoltas Irish Pub at 310 N. Second St. in Harrisburg will be back in business.
On Wednesday, the same group of European investors who bought The Quarter in Harrisburg, finalized the purchase of the Irish restaurant.
VMV Restaurant Group will convert Ceoltas into an English-American gastropub, said one of its partners, Erik Sohadze, 27.
The group anticipates it will spend about $300,000 in renovations to the first and second floors of the building. In addition, the rooftop will be converted into a Manhattan-style garden open to diners, Sohadze said.
As for the menu, it will highlight British pub fare but not be limited to the cuisine.
"We'll keep the typical European concept but there will be modern American dishes," Sohadze added.
He said they purchased the building and a liquor license.
Before arriving in Harrisburg, the group investigated the market and had offers in Philadelphia and Bethlehem.
New Owners Purchase The Quarter Erik Sohadze of VMV Fine Dining LLC talks about plans for The Quarter in Harrisburg
"When we got to Harrisburg we just fell in love from the first sight, I believe. I was so impressed with the architecture of the city. I had a feeling that I got to downtown Manhattan, not downtown Harrisburg," Sohadze said last month.
His partners are Anatoly Gutman and Vladimir Vladimirov, who are originally from Ukraine and Russia.
They are working with marketing expert Rob Goldstone, co-founder of OUI 2 Entertainment, who worked with Michael Jackson and B.B. King, he said.
To see the article on the Penn Live website, click here.