Flex Space: The New Office Environment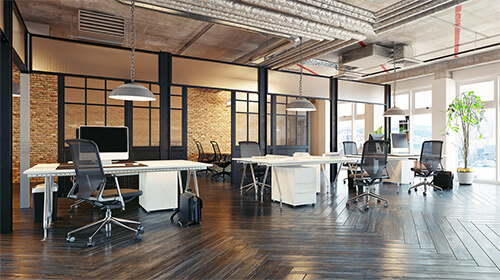 Flex space, also commonly known in the commercial real estate industry as flexible space, is single-story properties that typically have multiple units. Many multi-unit industrial buildings are often called flex spaces because they contain a portion of office/showroom space with a majority of warehouse space. Flex space began being popular in the mid to late 1990s as office tenants discovered there wasn't a "one size fits all" for the characteristic office tenant.
Roy H. Brenner, with Landmark Commercial Realty Inc., indicates flex space is not a new phenomenon but becoming seemingly more popular.
"Flex spaces are few and far between to find – there is not a lot of land available for new construction and land, which is specifically zoned for industrial-flex uses. They get scooped up pretty quickly as it is becoming the layout of the new office environment."
Is Flex Space right for my business?
Brenner says that if you are searching for the 'good looks' of an office but require the functionality of industrial/warehouse space you are a great candidate for flex space.
Brenner adds, "Let's say you are a cleaning company in need of a front office and a storage component. Flex space offers a nice, clean package for storage of supplies and floor buffers."
Sean Fitzsimmons, also with Landmark, recently had a client searching for office space and found that flex space worked best for them.
"An engineering firm was looking at several different traditional office spaces and couldn't find their ideal property," says Fitzsimmons. "They asked if there were any other options, and I suggested a flex space property. It was exactly what they were looking for, but they didn't realize it at first."
Fitzsimmons indicates that flex space is being added to his clients' shortlist of properties more and more.
Industries that commonly use flex space include IT companies, distributors, as well as medical, and environmental firms that have an industrial component to them.
Benefits?
In addition to the ability to compartmentalize or divide the space, flex space is generally less expensive per square foot than the classic "Class A" space. It offers low rental rates because you are saving on operating costs – costs that are passed through to the tenant in the office space.
Flex space also offers higher ceiling heights (generally 18 feet or more) in the warehouse space with a dock or drive-in doors for loading and lower in the office space portion of the property.
Flex space offers the traditional office user versatility, large open spaces, high ceilings, and in some instances, large windows.
To summarize, while flex buildings may not work for every business, they are becoming the new office environment for many companies. If you need more than 9,000 or 10,000 square feet of space that includes an office and a warehousing component, it may be right for you. And the cost-effective benefit – well, it doesn't hurt.