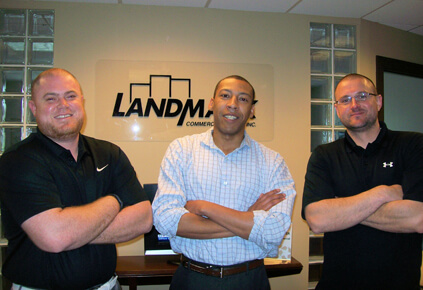 There are many signs of the strength of the commercial real estate industry. Businesses are continually looking to expand and upgrade facilities, multifamily properties are among the fastest growing markets, and the retail and hospitality markets are revitalizing many local areas. Landmark Commercial Realty continues to lead the way in south central Pennsylvania with a team of dedicated commercial Realtors who help businesses and investors find the perfect property for their buying or selling needs.
With the strength of the industry stable and growing, it's only natural to evaluate what may be next for commercial realty. This month we have spoken with three of our youngest and brightest agents – Dan Dutcavich, Sean Fitzsimmons and Chris Newton – to discuss the importance of embracing newer technologies in commercial real estate and preparing for the next generation of investors – the Millennials.
Integrating New Technologies
Dan Dutcavich is 31 years old, he is a United States Army Veteran and a former health club owner. As a business owner, Dan understands how the business realm operates, its intricacies and the financial needs of real estate investments. Dutcavich believes that today's commercial real estate agents need good marketing skills and a strong online presence – it is crucial for business.
"Nowadays, most people will be introduced to an agent or broker online, before ever meeting them face-to-face," stated Dan. "It's essential for an agent or broker to cultivate a strong and positive image of themselves online. And represent their clients' real estate assets accordingly."
Much of Dan's time as an agent is spent doing design work – online marketing and utilizing various web resources. "Social media, marketing, web optimization – it's a part of the job that you just have to embrace. Representing yourself well online, that's how you're going to get the calls, which help you and your clients" added Dan.
He also believes that soon, doing physical property walk-throughs with potential investors will be obsolete. Virtual tours are already common and now with the rise of drone technology, someone can get a wide view of the surrounding area of a property all from their office desk – all the more reason why embracing these new technologies is essential to staying on the forefront of the commercial real estate industry, especially when doing business with out of town investors.
Sean Fitzsimmons is only 33 but has already had a successful career in the oil industry doing title curative work and now works in the office/retail market with Landmark. Sean utilizes various technological tools to help provide the best services for his clients. He often uses satellite imaging to survey an area or his best professional companion, his mobile device.
"The many available mobile devices on the market today help you stay in touch with clients and build networks," Sean said. "Any tool that can save time and provide more opportunities translates to better results for the client in the end." Sean shared that many of his medical clients rely on his online tools to help expedite real estate transactions. Medical practitioners appreciate the efficiency and are already accustomed to online tools in their everyday practices – so real estate technology is a comfortable and adaptable to tool for them.
31 year old Landmark agent, Chris Newton, recounts just how much of commercial real estate is done online now. "Communication is mainly done through websites and social media, market reports are published online, documents are sent through email and signed through online services – everything is instantaneous now and not confined to office hours," he said.
The Rise of the Millennial Investor
With the rise of new technologies, comes the rise of a new generation who is proficient in their use. The Pew Research Center recently published a report stating that Millennials, those ages 18-34 in 2015, have finally overtaken the Baby Boomers as America's largest generation.1 This means commercial real estate is nearing a transitional period as a new wave of investors begin to "come of age".
"At this point, the market shows that most investors still average around 40 years old. However, those who begin investing in properties at a younger age, starting in their thirties, typically start in multifamily," Dan said. "It's a lower risk venture and they are often familiar with the market from their own personal experiences."
"As a young investor finds success in the multifamily market, our data shows that they will typically move into retail or office investments or something similar," added Chris. "But they are often momentum driven and not strategy driven – flipping properties, moving quickly from one investment to the next. This is one way CRE agents add value to the process. We can help develop a strategy."
From what Chris, Dan and Sean have seen in their professions, younger investors seem to show less of a need for brokerage services, at least in the preliminary stages of real estate. Where previous generations would immediately contact an agent about investment opportunities, Millennials harness online resources to see what is available before ever making contact with a professional. "Agents step in when the information online runs out," Chris added.
Though the entrance point for an agent during the investment process may vary over time, there is a wide array of resources and information a professional can provide, especially to a new generation of investors. "There is a lack of educational information available for Millennials and this presents a large opportunity for young agents to mentor this new generation of investors," stated Dan.
The commercial real estate industry continues to present great investment opportunities and through the integration of newer technologies in the industry and an awareness of new investors' needs, Landmark Commercial is poised to serve this new wave of commercial real estate in the coming years.
1 "Millennials overtake Baby Boomers as America's largest generation," Pew Research Center, http://www.pewresearch.org/fact-tank/2016/04/25/millennials-overtake-baby-boomers, (April 25, 2016)