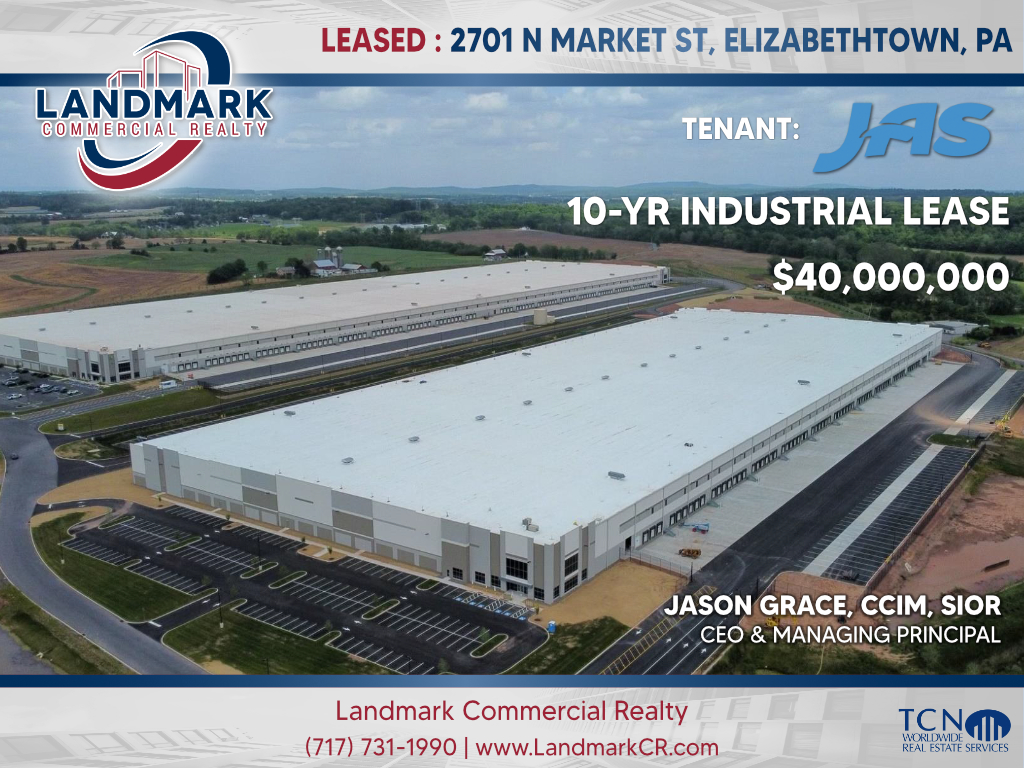 Camp Hill, PA (September 13, 2023) – Landmark Commercial Realty is pleased to announce the successful completion of a significant industrial lease transaction at the First Logistics Center @ 283 Industrial Park. JAS Worldwide, a global leader in freight forwarding and logistics solutions, has committed to a long-term lease agreement for a ±350,000 square-foot industrial facility, with a total lease value of $40 million over the next decade.
The industrial space was completed in 2023 and offers state-of-the-art facilities designed to meet the demands of modern logistics and supply chain operations. The facility is strategically positioned to provide efficient access to key transportation routes and logistical hubs, making it an ideal choice for businesses seeking to optimize their operations.
"We were excited to work on behalf of JAS Worldwide to secure the new space at the First Logistics Center @ 283 Industrial Park," said Jason Grace, CCIM, SIOR, CEO and Managing Principal of Landmark Commercial Realty. "Their decision to establish a significant presence in the region underscores the strategic advantages and further enhances the region's reputation as a hub for logistics and distribution excellence."
JAS Worldwide, is a globally recognized leader in supply chain management and logistics solutions. With a strong commitment to innovation, efficiency, and customer satisfaction, JAS Worldwide has consistently delivered top-tier logistics services to clients around the world.
Landmark Commercial Realty continues to be a leading force in the commercial real estate market, connecting buyers and sellers to achieve successful transactions. For more information about Landmark Commercial Realty and its services, please visit www.LandmarkCR.com.
About Landmark Commercial Realty / TCN Worldwide
Landmark Commercial Realty, established in 1988, is a full-service commercial/industrial brokerage firm headquartered in Harrisburg, Pennsylvania, focusing on the South-Central Pennsylvania region. Serving more than 200 markets globally, Landmark is a member of TCN Worldwide, with more than 1500 brokers and salespeople.