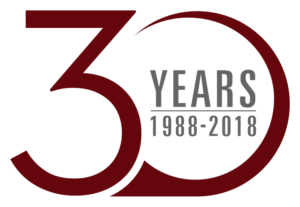 Lemoyne, PA (October 23, 2018) — This year, Landmark Commercial Realty, Inc. celebrates a 30-year milestone. Founded in 1988, Landmark is a full-service commercial/industrial brokerage firm headquartered in Lemoyne, Pennsylvania.
In October of 1988, David Remmel, P.E., SIOR, president of the firm and a civil engineer turned entrepreneur, launched Landmark with four employees. Currently, a 22-person staff of brokers and administrators, Remmel credits Landmark's success to an uncommon team ethic.
He adds, "In 1988 when Landmark was conceived, we were determined to foster a corporate culture that was healthy, trusting and productive. In an industry where it is often every man for himself Landmark has always been about every member of the team winning."
His philosophy has paid off. With sales and leasing transactions exceeding $3.5 billion, Landmark has earned a reputation as a proven market leader that enjoys a high degree of client loyalty and recognition from both national and local companies.
"30 years later," Remmel continues, "we have been successful because we have long-standing team members who have made it happen – team players who have become a part of our lives and part of our extended family. Several of our brokers have been with Landmark for 20, even 30 years."
With an emphasis on continuing education, Landmark agents are urged to acquire the necessary credentials to bring in-depth expertise to each project or transaction. Currently, their specialties include leasing and sales of office, industrial and retail properties, as well as acquisition and disposition of income producing investment properties.
Adding further dimension to those specialties is an impressive education and hands-on experience that distinguishes the Landmark team from others.
Remmel notes, "Our agents come from diverse professional and business backgrounds including civil engineering, real estate development, property management, construction management, government and public relations, international marketing, and accounting and finance."
Individual agents have earned membership in esteemed national organizations including the Society of Industrial and Office Realtors (SIOR), the Certified Commercial Investment Managers Institute (CCIM), the International Council of Shopping Centers (ICSC), the Council of Supply Chain Management Professionals (CSCMP) and the Warehousing Education and Research Council (WERC).
"Clearly, with this level of in-house expertise, cross consultation becomes an added bonus for every Landmark client," Remmel observes.
Recently Landmark was awarded two CoStar PowerBroker Awards and named one of Central Penn Business Journal's largest private companies in the region.
"We have such a great team," Remmel adds. "I am beyond grateful to our hard working agents and staff, as well as our loyal clients who helped us reach this milestone."
About Landmark Commercial Realty Inc.
Landmark Commercial Realty Inc., established in 1988, is a full-service commercial/industrial brokerage firm headquartered in Harrisburg (Lemoyne), Pennsylvania with a focus on the South Central Pennsylvania region. Landmark is a member of TCN Worldwide with more than 1,500 brokers and salespeople serving over 200 markets, globally. For more information, visit landmarkcr.com.