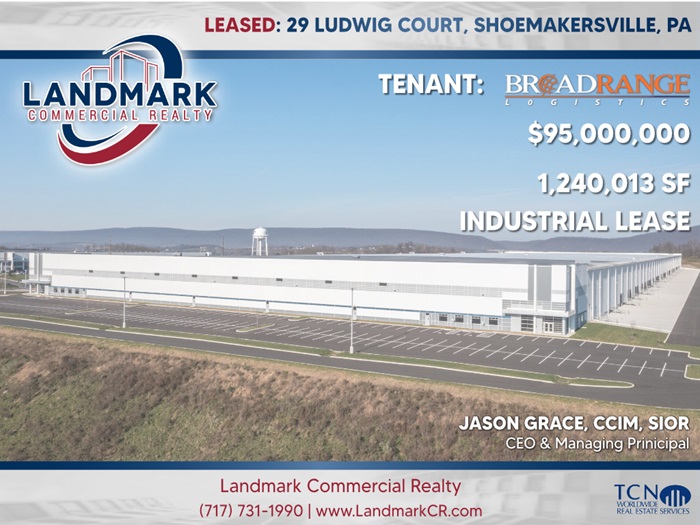 Camp Hill, PA (November 2, 2023) – Broadrange Logistics LLC ("BRL"), an end-to-end warehousing, distribution & third party (3PL) fulfillment company headquartered in Atlanta, GA, is set to open a new warehouse and distribution center in Berks County.
The company signed a long-term lease for a 1,240,013 SF industrial logistics space in the Hamburg Commerce Center located at 29 Ludwig Court, Shoemakersville, in Perry Township, Berks County, PA. Jason Grace negotiated the transaction on behalf of BRL with the landlord, The Keith Group, out of Charlotte, NC.
Jason Grace, CCIM, SIOR CEO & Managing Principal at Landmark Commercial Realty / TCN Worldwide, stated, "Completing Landmark Commercial Realty's biggest deal in company history wasn't about numbers or contracts. It was about envisioning the possibilities, harnessing our team's  collective expertise, and the relentless drive to generate unparalleled value for our client. This historic transaction highlights our unwavering commitment to being leaders in the regional commercial real estate market."
For more information about Landmark Commercial Realty and its services, please visit www.LandmarkCR.com.
About Landmark Commercial Realty / TCN Worldwide
Landmark Commercial Realty, established in 1988, is a full-service commercial/industrial brokerage firm headquartered in Harrisburg, Pennsylvania, focusing on the South-Central Pennsylvania region. Serving more than 200 markets globally, Landmark is a member of TCN Worldwide, with more than 1500 brokers and salespeople.