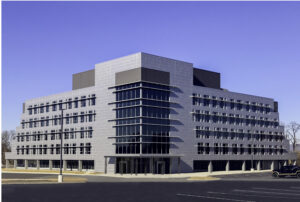 Camp Hill, PA (June 15, 2020) – Landmark Commercial Realty Inc. announced that Select Capital Commercial Properties Inc.'s 225 Grandview Drive, Camp Hill property, was chosen to receive the 2019 Best Architecture Award from the Mid-Atlantic Real Estate Journal (MARE). Jason Grace, CCIM, SIOR, and SVP of Landmark Commercial Realty, represented the Lower Allen Township-based real estate investment company in the initial acquisition and will be coordinating all leasing for the merger. Murray Associates Architects, PC, based in downtown Harrisburg, was charged with the redesign of the building.
The 215,000 square foot property located near Geisinger Holy Spirit campus, about a half-mile from the Camp Hill Bypass, began renovations in 2018 and will be complete this month.
Jason Grace said, "The property could have easily been demolished as the building's existing steel structure and site constraints posed some viable challenges, but Murray did an unbelievable job creating and bringing first-generation Class A office space with amenities to Cumberland County. While the COVID-19 pandemic also altered the renovation timeline, 60% of the building has already been pre-leased, and we expect tenants to begin occupancy this month."
Benedict H. Dubbs, AIA, LEED AP, and Principal with Murray Associates Architects added,"We focused on the design details of a clearly defined entrance covered by a thin horizontal canopy that unites the glass corner. The rhythm of undulating openings in the facade is large enough to provide beautiful vistas to the exterior while respectfully not overexposing the occupants. This attention to detail and fundamental goals established at the onset of our collaboration with Select Capital Commercial Properties resulted in the award-winning transformation of 225 Grandview Ave."
Select Capital and Landmark have been working together for nearly two decades on projects throughout Central Pennsylvania. Select Capital has redeveloped and renovated several iconic office properties in the region, including the Fulton Bank building and Commerce Tower in downtown Harrisburg. The company has also developed a Class A suburban office park at Executive Park West in Mechanicsburg that encompasses nearly 300,000 square feet with an expansion phase currently being delivered.
About Landmark Commercial Realty Inc.
Landmark Commercial Realty Inc., established in 1988, is a full-service commercial/industrial brokerage firm headquartered in Harrisburg, Pa. that focuses on the South Central Pennsylvania region. Landmark is the local affiliate of the TCN Worldwide network, which serves more than 200 markets globally through more than 1,500 brokers and salespeople.