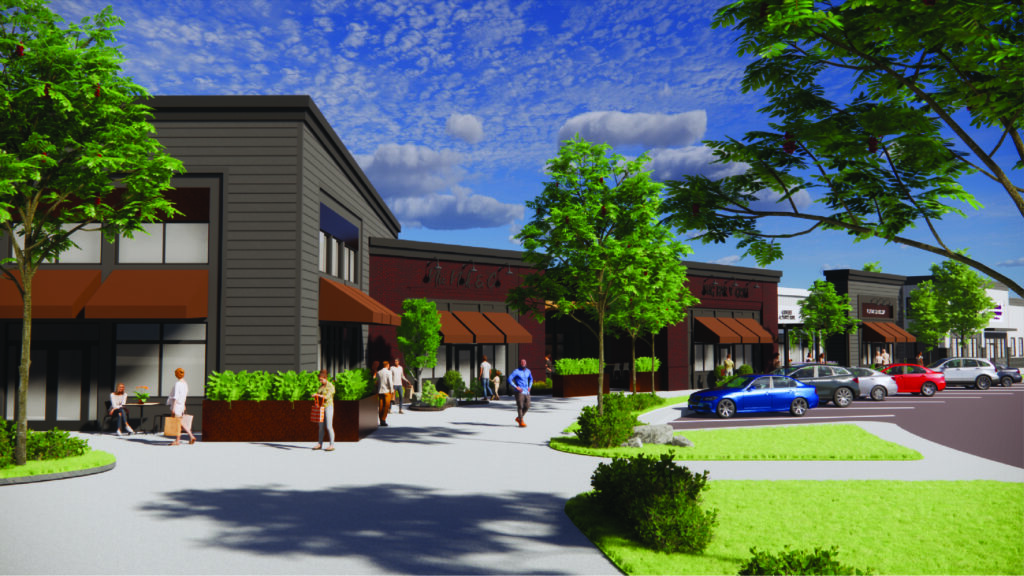 Camp Hill, PA (May 18, 2021) – Susquehanna Union Green, Central Pennsylvania's largest mixed-use project, is pleased to announce that it has signed leases and commenced construction to host several major regional and national retailers. These notable tenants are just the beginning of Susquehanna Union Green's impact as an economic and cultural center in Dauphin County and the newest premier business address in Harrisburg.
Landmark Commercial Realty was selected as the exclusive broker to market the commercial mixed-use development for the Vartan Group in 2018.  Drew Bobincheck, CCIM, is serving as one of the listing agents for the retail and office space.
"Located just minutes from Interstates 81, 83, Route 322, and downtown Harrisburg, the 58-acre project is an ideal location for retailers," stated Drew Bobincheck.  "The traditional village development will include 24 commercial/retail buildings with more than 60,000 SF of space. These buildings will fit in a pedestrian-friendly environment with more than 17 acres of centralized green space, creating a live-work-play environment like nothing else in the market."
The owner/developer, Vartan Group Inc., is proud to welcome to the project:
Panera Bread – will lease a free-standing building just off Linglestown Road with curbside pickup options.
Wendy's – will be constructing a state-of-the-art 2,400 SF restaurant in their new model.
Zero Day Brewing – a local favorite, will construct a 5,000 SF full-service brewery with food service from Shakedown BBQ.
These notable retail outlets will serve an innovative community of multifamily and approximately 40 single-family residences located immediately in the project and the almost 2,000 households in the surrounding area.
Susquehanna Union Green is quickly gaining prominence as one of the most desirable locations for any retailer seeking space in the quickly growing Central Pennsylvania market. To provide residents and members of the community with the best possible experience, desired tenants include a mix of national and local retailers, including a specialty grocer anchor, numerous restaurants, personal services, fitness, and daycare, as well as a variety of office and medical uses.
Space is still available, and Landmark is responding to numerous inquiries on availability. If you are interested in the project, please contact the Susquehanna Union Green Leasing team at Landmark:  Justin Shoemaker, Drew Bobincheck, CCIM, or Nick Sallack at (717) 731-1990.
About Landmark Commercial Realty / TCN Worldwide
Landmark Commercial Realty, established in 1988, is a full-service commercial/industrial brokerage firm headquartered in Harrisburg, Pennsylvania, focusing on the South Central Pennsylvania region. Serving more than 200 markets globally, Landmark is a member of TCN Worldwide with more than 1500 brokers and salespeople.