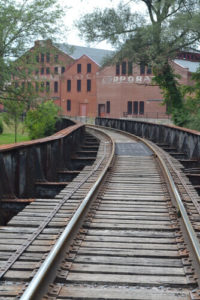 Located just 12 miles northeast of State College, Bellefonte is experiencing a downtown revitalization. The county seat of Centre County featuring Victorian architecture, the iconic Talleyrand Park at its center, museums and eclectic shops as well as easy access to world class fly fishing, the historic town is poised to attract outdoor enthusiasts, tourists and Penn State University alumni and visitors.
Bellefonte is the former home to seven state governors, but its popularity ebbed with the growth of Penn State University in the 1900s. Now rising real estate costs in State College are spurring growth in Bellefonte's downtown. With a cost of living that's 5.3 percent below the U.S. average and a low unemployment rate, Bellefonte holds appeal as a cost-effective site to set up shop. New business owners are being followed by home buyers, including recent graduates, who are discovering they can get more house for their money in Bellefonte.
Established as a Keystone Community in 2014, Bellefonte has access to training and receives a higher funding priority for projects targeted to revitalize the downtown. An innovative borough leadership, forward-thinking group of both seasoned and young business owners and entrepreneurs who are interested in the overall success of the community are leading the revitalization with new restaurants, breweries and events like town-wide First Sunday to draw visitors downtown.
The resurgence began taking hold four years ago, with high occupancy rates in storefronts in the downtown. The four-acre waterfront parcel is poised for development, with an ideal downtown location and great water views.
"The waterfront parcel is a great hotel/event site to include mixed-use retail and multifamily units," says Barb Murdocca, Director of Operations with Landmark.  "With the growth of downtown amenities, events, and its proximity to Penn State, Bellefonte is on target to become a destination similar to Lititz, which benefited from the growth seen in Lancaster".
Another indicator of its growth is the old Armory site on Zion Road, located 1 mile off I-99.
Murdocca adds, "The seven-acre development site is starting to garner interest from large users and national retailers.  They see the benefit of its location in a community ready for growth."
If you are interested in information about commercial real estate properties in Bellefonte, please contact us at 1-800-722-1990.