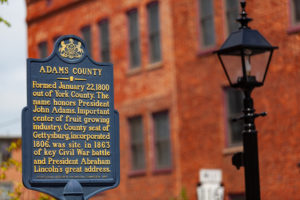 The current battle of Gettysburg may be how to balance the need for economic growth and development alongside goals for preservation of historic and agriculturally-significant lands. With its diverse terrain and offering of industries, the Gettysburg/Adams County region is actively exploring its potential for growth through the Adams Economic Alliance.
Located within one day's drive of 60 percent of the population in the United States and Canada, Gettysburg/Adams County is located along the border of Maryland in South Central Pennsylvania. Residents are about an hour's drive from Harrisburg, the state capital, as well as Baltimore and the suburbs of Washington, D.C. The county includes numerous small towns, six school districts, a hospital, three institutions for higher education including Gettysburg College, the Lutheran Theological Seminary, and a branch of Harrisburg Area Community College as well as the Michaux state forest, the national military park, state game lands and vast farmland.
The county seat is Gettysburg, famous as a tourist destination, but manufacturing is actually the leading employer in Adams County. Nearly 20 percent of Adams County's workforce is employed in manufacturing at companies like:
Knouse Foods
Hain Pure Protein Corporation
PCA Corrugated and Display LLC
Aerotek and
Pella Corporation
Tourism does factor heavily in the county's economy. According to a report by the National Park Service, more than 1 million visitors came to the Gettysburg National Military Park and Eisenhower National Historic Site in 2015 and spent $71 million in nearby communities on lodging, food and beverages, gas and oil, admissions and fees, as well as souvenirs and other expenses. Heaviest periods for the tourist industry are throughout the summer with lighter activity in the late spring and early fall.
Another major industry is agriculture. With more than 20,000 acres of orchards and vineyards, Adams County is the top apple producing county in the state and the sixth highest producer in the nation according to data from 2012. Channeling opportunities for agro-tourism, Adams County has a growing sector of wine, beer and cider offerings that are featured on established routes including the Gettysburg Fruit and Wine Trail, the Mason Dixon Wine Trail, and the Susquehanna Ale Trail.
While tourism and agriculture are presently the drivers of income for the South Central Pennsylvania rural community, Adams County is continually working to identify unique economic development opportunities.  By encouraging entrepreneurs to bring their business to the county, various employment options for a variety of skill sets will become available boosting an already stable local economy.