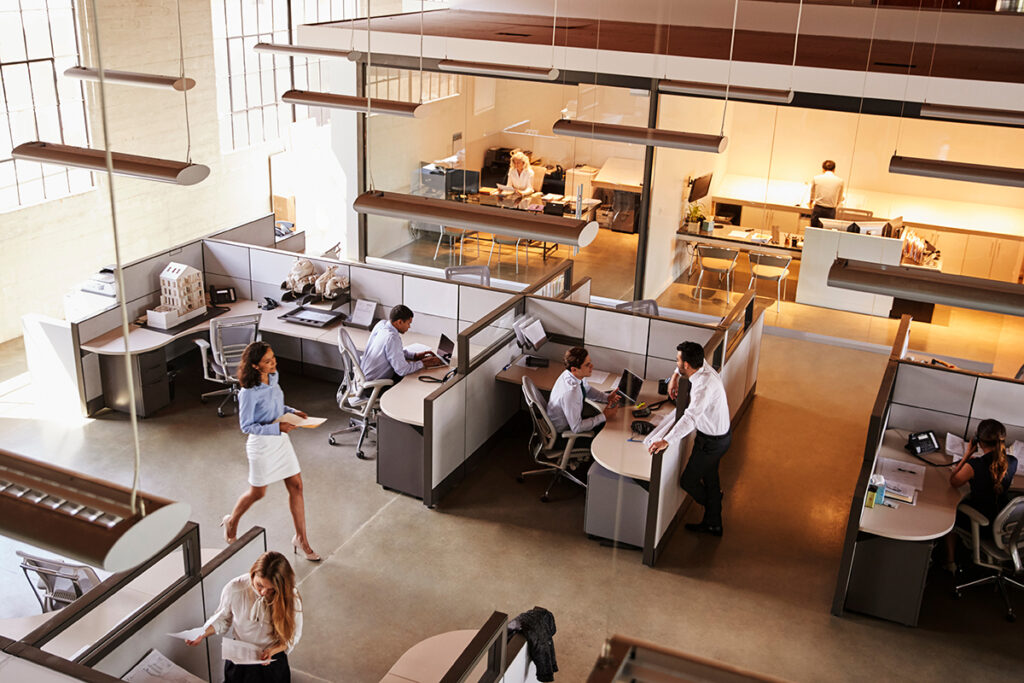 With workspace coming in as second, only to payroll as most business's largest expense, rightsizing office space has become top of mind.  But, what is rightsizing, and how can it help a business?
What is rightsizing?
"Rightsizing is a multidisciplinary effort that involves assessing the use of office space and planning accordingly for the foreseeable future," explains Michael Curran, President of Landmark Commercial Realty.  "It requires a company to sit down with an expert in space planning and design.  They will then customize an office environment that works for them based on feedback from various levels of management and key leadership.  That is where Landmark comes in.  We are the first regional, full-service commercial real estate provider to offer this type of service to our clients in-house."
As part of the newly expanded client services platform, Landmark recently hired Colleen Erickson as Director of Facility Planning.  Colleen will work directly with owners and occupiers, providing a space use analysis that will help customize their office occupancy needs.
Curran adds, "Colleen has worked in the field for over twenty years and can help businesses decide what works for them, whether it is expansion, contraction or relocation."
Space Use Analysis
When a business decides they need to evaluate their current office space, Colleen would work to assess their current conditions, including headcount, business processes/adjacencies, type of workers (remote/in-office), activity-based vs traditional workspaces, with the overall goal of identifying areas of improvement to implement change. COVID-19 has many reassessing their office space as it relates to social distancing, flexible meeting areas and dedicated workspaces.
"While I ask several questions during the assessment, there are five I ask at the first meeting to help me understand their critical needs," says Erickson.
"The top five questions are:
Has COVID-19 made you reconsider your current work environment?
What are the most significant challenges/advantages with your current space?
Do you have office and workstation standards?
Any specific department adjacencies?
Do you have suitable conference space, and is it sized appropriately?"
Erickson adds, "I have worked with many different clients throughout the past two decades, including those in the corporate, legal, and pharmaceutical industries. As a result, I know what space works for one company may not work for another.  That is why customized assessments are necessary."
Recently, Landmark assisted an organization that was in its current space for the past 25 years.  By reconfiguring their space, they gained about 30% more usable office space.
Erickson adds," The best work environment is the one that supports that specific business's needs.  I can help create a balanced layout that addresses every need as there isn't a one-size-fits-all answer."
Are you looking to rightsize your business? Contact Colleen at colleen@landmarkcr.com.